Why You Need to Schedule a Commercial Plumbing Inspection
Although it might not cross your mind often, among the most important components in your office building or commercial establishment is your plumbing system. All commercial buildings rely on plumbing for a variety of services. Consequently, it is important to ensure that your plumbing system is up to date in order to avoid inconveniences and even expensive repairs. A periodic commercial plumbing inspection helps to ensure your plumbing system is in the good condition so you do not have to worry about possible issues in the future.
As a business owner, you are already likely well aware of the importance of planning ahead before problems occur down the line. Regular commercial plumbing inspections help you to do just that. Although a commercial plumbing inspection is an investment, it is an investment in your peace of mind as well as the stability and profitability of your business operations.
Regular Maintenance Helps to Prevent Delays and Expensive Damage
In many instances, plumbing systems wind their way throughout an entire building. This includes the floor, walls, ceiling, and more. Since the pipes involved in a building's plumbing system cannot be easily seen, it can be difficult to know when there is a problem until it is too late. For instance, you might not realize there is a leak until you notice a wet spot. By that time, not only does the leak need to be repaired, but you'll also likely need to repair the floor or the ceiling. Additionally, a serious leak can lead to the proliferation of mold, which can be even more expensive to remediate.
The good news is that if a leak is caught early enough, the situation can be remedied before it leads to even more serious and expensive problems. This makes it possible for your business to remain operational while also helping you to save money on the cost of repairs. You will not have to worry about shutting down your operations for days or possibly even weeks or months in order to address expensive plumbing problems.
Improved Customer Experience
A poorly maintained or older plumbing system can lead to not only water damage but also poor water flow, backups, and myriad other inconveniences. All of these issues can reflect poorly on your business. For example, imagine that a customer walks into your place of business and spots water damage. In such a situation, that potential client might become concerned about the overall quality of the service you provide.
Averting Major Disruptions
There are various plumbing issues that can turn into catastrophes for a commercial enterprise. The sensible approach is to plan for a professional examination of your plumbing system. As they say, an ounce of prevention is worth a pound of cure, and a routine inspection can:
Reduce the potential for a serious clog in your building's sewer line
Locate worn pipes before there is a break
Check the water heater for sediment and corrosion
Identify toilet leaks before they lead to problems
Check potable water for chemical composition that could cause health hazards
Ensure that water pressure is sufficient to continue operations
Frequency of Commercial Plumbing Inspections
How often you should schedule a commercial plumbing inspection for your building depends on a variety of factors, including the age of your plumbing system as well as whether you have observed any issues. Consider the points outlined here.
Is Your Building New?
If your commercial building is new, it's a good idea to have the plumbing system in it inspected right away. This will ensure the system was installed correctly. If any irregularities are observed, they can be addressed immediately to ensure there are no problems later on. Furthermore, the repairs might be covered by the existing warranty.
Is Your Commercial Building More Than 20 Years Old?
If your commercial building is more than 20 years old, it is definitely time to consider getting a commercial plumbing inspection. While many materials used in the construction of plumbing systems are designed to last at least 80 years, most plumbing pipes are designed to last no longer than 50 years. Some are only designed to last as few as 20 years. Consequently, if you have a building that is 20 years old or older, it's a good idea to get a commercial plumbing inspection to determine the amount of wear and tear the pipes have sustained. You'll want to know whether there are any clogs or possibly even leaks.
Have You Observed Any Problems With Your Building's Plumbing?
If you have observed the presence of any problems with the plumbing in your building, such as slow drains, high water bills, foul-tasting water, or low water pressure, it's a good idea to arrange an inspection. Regular inspections and drain cleanings can help to prevent the buildup of clogs as well as address small issues before they become big ones. Remember, if you notice a problem, it's always better to address it sooner rather than later.
Selecting the Right Plumber for a Commercial Inspection
When selecting a plumber for your assignment, it's important to choose one with specific experience in performing commercial plumbing inspections. Although a plumber specializing in residential plumbing will certainly have experience, they may not be knowledgeable about the specific plumbing systems used in commercial buildings.
What Is Included in a Commercial Plumbing Inspection?
During a commercial plumbing inspection, your plumbing pipes will be checked for both safety and reliability. This typically involves not only walking through the building to perform a visual inspection but also testing the system for leaks. Additionally, each joint and seam in the system will be examined for proper fittings to ensure they are sound. A camera inspection may also be performed. This type of inspection will assist in ensuring there are no holes, cracks, or corroded sections that could result in problems in the future. Following the completion of the inspection, your plumber will provide you with a report of the findings. This report will guide you in addressing any critical problems and assist you in planning for future maintenance.
Advantages of a Commercial Plumbing Inspection
Scheduling regular commercial plumbing inspections of your facility will also assist you in planning and budgeting for plumbing upgrades and repairs in the future. Other advantages of a commercial plumbing inspection include:
Detecting the presence of corrosion within plumbing pipes
Determining the remaining useful life of your pipes
Ensuring proper installation of your plumbing system
Making certain your plumbing system meets all current plumbing codes
Identifying the presence of any potential health hazards
Locating the presence of clogs before they result in backups
Commercial Plumbing Inspections by Local Experts
At Blue Bear Plumbing, Heating & Air in Pembroke, MA, we offer a comprehensive range of commercial and residential plumbing services to customers from Boston to Cape Cod. That includes water lines, fixtures, sewer lines, gas fittings, and water heaters. We also assist homeowners and business proprietors with outstanding heating, cooling, and indoor air quality installation, maintenance, and repair. In addition to being certified by OSHA and the EPA, we have an A+ rating from the BBB. Give us a call today to find out more about our commercial plumbing inspections or any of our other services.
Don't Wait to Schedule the Service You Need
Let Blue Bear Resolve All Your HVAC & Plumbing Issues!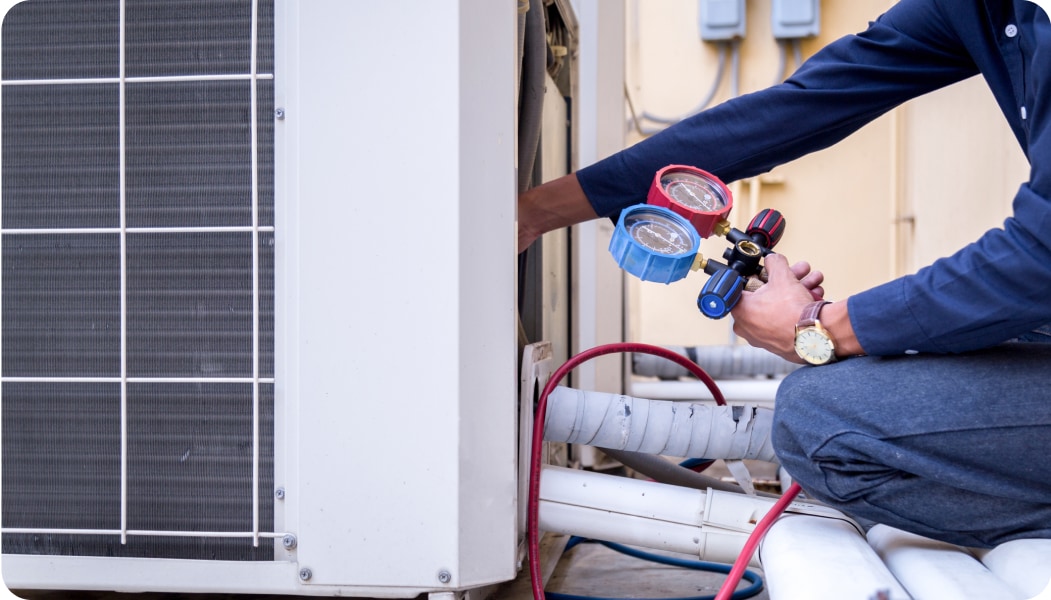 Sign Up for the Blue Care Maintenance Plan
Protect Your Home for Only $29 a Month!
Routine maintenance is vital for the longevity of your plumbing, heating, and air conditioning systems. Sign up for our Blue Care Maintenance Plan for annual service and exclusive membership benefits, including:
Priority scheduling
Waived service fee during normal business hours
10% discount on service calls
3% discount on new installations
Two-year parts and labor warranty on new equipment