Home Furnace Safety Tips for the Fall
Today's furnaces do a fantastic job of keeping our homes safe and warm. And as the approaching colder months make more and more people spend time indoors, it's up to our furnaces to keep all of us comfortable. But just like any fuel-burning appliance, furnaces also need maintenance to avoid problems that can lead to safety hazards.
And after months of going unused in the summer, your furnace might need more than just a quick peek before you start using it again. Upkeep helps your furnace stay in good condition, but have you done your due diligence yet?
If you haven't yet, here are some home furnace safety tips that should help keep you and your home protected throughout this season.
Regular Vacuum Cleaning
It might not be obvious, but lint and dust can cause hazards around your furnace. Luckily, you can easily avoid all of this by regularly setting aside some time every month to vacuum inside and around your furnace. This should help prevent lint build-up. For more detailed instructions on cleaning the inside compartment of your furnace, you can either refer to the manufacturer's instructions or schedule an appointment with a professional heating, ventilation, and air conditioning specialist.
Should you require a professional, our skilled and NATE-certified technicians at Blue Bear Plumbing, Heating & Air will help ensure that your furnace is primed and ready for the colder and wetter months.
Keep Flammable Items Away
Another simple furnace tip is to keep flammable items away from your furnace. Usually, some families also use their furnace room as a place for storage or laundry. If your furnace is also being used the same way, make sure that it's safe by keeping the room as organized as possible. On that same note, combustible materials like paint thinners, paint, and gasoline should not be stored anywhere near the furnace.
Additionally, avoid hanging clothes from any furnace equipment if you also use the room as a laundry room. Cleaning solutions should also be kept in airtight containers or in a different room entirely. A general rule to follow in the furnace room is to remember that any item left near the furnace can become a hazard.
Replace Your Filters
A dirty filter may hamper the overall performance of your furnace, while a damaged one could cause breakdowns. A dirty air filter will also restrict the airflow in your furnace. This overworks the system and potentially increases the risk of a carbon monoxide leak, which can be very dangerous. To avoid any of these complications, change your furnace's filters once every couple of months. Note that if you use your furnace often, smoke, or have pets, you may need to replace them more often.
Test Your Smoke Alarms
Fall is also a great time to spend some time checking your home's smoke alarms and making sure they're all working correctly. Install a fresh pair of batteries in every unit, and check back in every week to make sure each one is still properly functioning. Ideally, these alarms should also be replaced every ten years.
Test Your Carbon Monoxide Detectors
Just like with your smoke alarm detectors, it's also recommended to check that all of your carbon monoxide detectors are working correctly. A carbon monoxide leak is easily one of the biggest safety threats a malfunctioning furnace can provide. It's critical to make sure that your furnace is working properly and that carbon monoxide detectors are always protecting you.
It would help if you also placed them in the same room as the furnace for immediate warnings in case of a malfunction, with extra detectors placed on every level of your home. Additionally, it can also be helpful to know the symptoms of carbon monoxide poisoning, which can include a dull headache, nausea, vomiting, weakness, dizziness, blurred vision, and shortness of breath.
Keep Children Away From the Furnace
If there are children in your family, make it a point to teach them to stay away from the grill of the furnace or the furnace room in general. Teaching them early will help build safety habits. Additionally, children are less likely to leave toys and other items near the furnace if they're not allowed to play in the area.
Maintain Consistent Home Temperatures
Most homes today include automation, with many relying on programmable thermostats to help maintain consistent home temperatures. Done correctly, this can help reduce furnace issues that can lead to damage.
Additionally, if you come home to a cold house, it's not recommended to turn the heater up into the 80s to try and heat it faster. Instead, slowly heating your home will not only take care of your furnace better but also save you from high utility bills.
Leave Furnace Repairs to the Professionals
If you suspect that your furnace is malfunctioning or is not working correctly, do not attempt to make repairs or parts replacements on your own. Furnaces are complex appliances, and trying to fix them on your own may damage them even further.
As such, it's recommended to contact a certified professional technician to avoid the risk of personal injury and property damage.
Check the Vents in Each Room
To facilitate the optimal operation of your heating system, make sure to leave vents open, as keeping too many of them closed can lead to unwanted heat build-up. And while it may seem counter-intuitive, leave vents open even in rooms that you don't use, as this will help release unwanted heat and keep your furnace healthy and functioning.
And while we're on the topic of vents, take a few minutes to check your furnace's vent pipe for deterioration and obstructions. If you spot any loosening joints or blockages, it's recommended to contact reliable heating professionals to handle the issue for you.
Schedule Professional Maintenance
Even a well-functioning and healthy furnace should be checked by a professional at least once or twice a year. Through regular maintenance and tune-ups, you will keep your furnace in top condition, alert you to any potential issues, and of course, address minor problems that can lead to costly repairs when left unrepaired. Regular furnace maintenance will also help increase the lifespan of your unit.
Quality and Professional Heating Services
Understanding home furnace safety is essential in not only keeping your home safe this season but also saving your wallet from expensive repairs and replacements.
If you have more questions about these furnace safety tips or if you'd like a heating system serviced or installed in your home, then contact us at Blue Bear Plumbing, Heating & Air. Providing 24/7 professional service to customers from Boston to Cape Code, our skilled and certified technicians can handle any furnace installation, repair, or replacement service you're in the market for.
We also offer plumbing, indoor air quality, and cooling services, including HVAC installations, drain cleaning, tankless water heater repair, commercial plumbing, and even sewer camera inspection. Whatever home issue you may have, trust Blue Bear Plumbing, Heating & Air to be there at your service.
Don't Wait to Schedule the Service You Need
Let Blue Bear Resolve All Your HVAC & Plumbing Issues!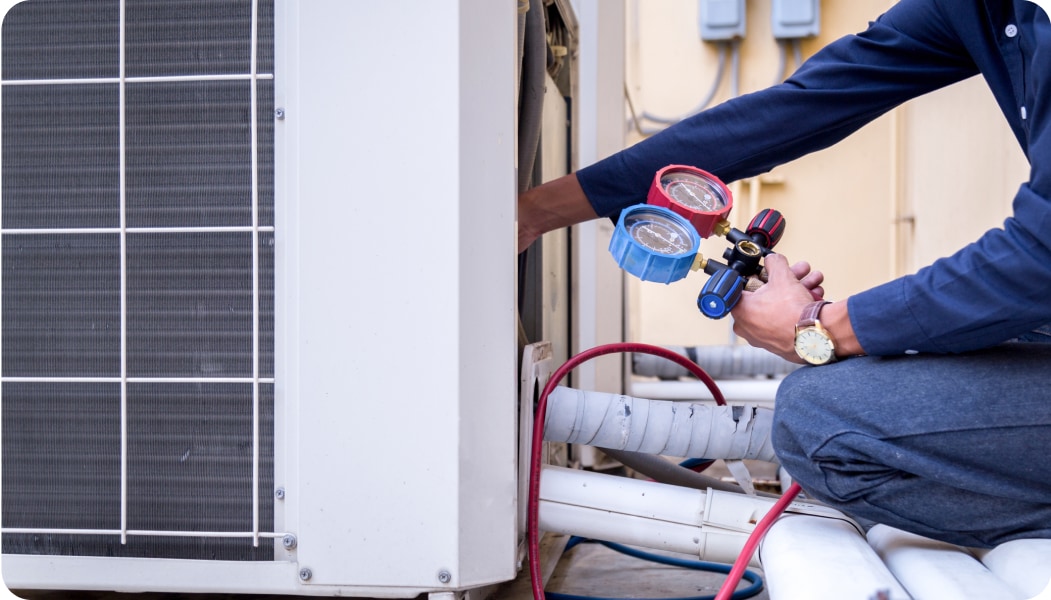 Sign Up for the Blue Care Maintenance Plan
Protect Your Home for Only $29 a Month!
Routine maintenance is vital for the longevity of your plumbing, heating, and air conditioning systems. Sign up for our Blue Care Maintenance Plan for annual service and exclusive membership benefits, including:
Priority scheduling
Waived service fee during normal business hours
10% discount on service calls
3% discount on new installations
Two-year parts and labor warranty on new equipment