Going on Vacation? Turn Off Your Water Supply
According to research, at least 50% of the people living in the United States leave for summer vacation. If you are among them, you need always to ensure that you are well prepared for the vacation. For instance, you need to pack the things you will need to use while on vacation and alert your credit card company you are going on vacation. You should also prepare your home just before you leave. Preparing a home before leaving for vacation involves:
Turning out all the lights
Cleaning out the fridge
Spraying for bugs
Unplugging and resetting your thermostat
Turning off the power to your HVAC system
Many people wonder whether turning off your water supply before leaving for vacation should be part of preparing to leave. Below are more details on whether you should or should not turn off your water before leaving for vacation.
Is It Necessary to Turn Off Your Water Supply Before Going for Vacation?
If you do not turn off your water supply before leaving for vacation, water will continue sitting in your pipes, waiting to be used. If any of these pipes cracks or bursts, water will flow out of them at high pressure. It will continue flowing out until your water tank gets empty.
To ensure that this does not happen, you need to turn off your water supply before leaving for vacation. When you turn off your main water supply, water will not get supplied into the house. However, outside water sprinklers will still work.
How and Why to Turn Off the Main Water Supply
You can turn off your main water supply by closing the main water supply valve. This valve usually has a lever handle or a wheel control. You should use this wheel control or lever handle when closing or opening this valve. For instance, to close a main water supply valve with a wheel control, you should turn the wheel clockwise. If this valve has a lever handle, you should close the lever.
A main water supply valve is usually located inside a home where the main water pipe enters the house. This valve is typically located in the basement area or the crawlspace. The main water supply valve is sometimes located outside the house, where the main water pipe connects to the water meter.
Below are some of the reasons that should make sure you turn off your main water supply valve.
1. To Prevent Massive Water Damage
Imagine a situation whereby a water pipe bursts or your hot-water tank starts leaking water while you are on vacation. Your house will likely get flooded. Just like fire, water can ruin the things inside a house. For instance, it will make wooden furniture in your home warp and rot.
The floodwater can also get electrically charged after contacting power cords or devices connected to an electrical system. Electrically charged water is dangerous and can even cause death. Therefore, if such a thing happens, you should contact your electric utility company.
Mold can also grow in your home after a water pipe bursts. These organisms need moisture, organic material, and oxygen to grow. They could begin growing 24 hours after one of your water pipes bursts.
2. To Avoid Paying Huge Water Bills
If your water supply is not turned off and one of your water pipes bursts, a lot of water will spill on the ground. For instance, a small crack in a water pipe is likely to spill around 250 gallons of water in a day. When this happens, you will end up paying huge water bills. Anyway, there will be no one to turn off your main water supply after the pipe bursts and hence ensure that the bill does not go high.
3. To Avoid Massive Costs
Imagine the amount of money you will spend on repairs after water damages some of your household items. You will spend a lot of money since some of these household items will need to be replaced. Why allow yourself to spend all this money on repairs when you can avoid water damage by turning off your main water supply?
You may think that your insurance company will help you repair and replace some of these household items. However, this is not usually the case. Some of the available insurance companies go into cost minimization mode when such things happen. Others void some of their insurance policies after noticing that the main water supply valve was not turned off when people were going on a vacation. Anyway, many residential insurance policies are only validated if people are watching over the insured home daily.
4. To Avoid Stress and Inconveniences
After coming home and finding out that your house is flooded, you will have to look for accommodation. Looking for this accommodation can be stressful, especially if you do not live near a big town. You will also get emotionally disturbed seeing your possessions, family heirlooms, and memories succumb to water damage.
In Which Seasons Should You Ensure That Your Water Supply Is Turned Off?
Regardless of the season, you should ensure that your main water supply is turned off before leaving for vacation. However, in winter, you should be more vigilant. During this season, the water inside water pipes may freeze. Frozen water usually expands and can therefore make water pipes burst or split, making your house flood.
Before leaving for vacation in winter, you should also drain all your water pipes. Doing this will help ensure that your water pipes do not freeze even if it gets too cold.
Advice on Protecting Your Plumbing When Leaving for Vacation
Many things can make you want to leave your home and go on vacation. However, before you leave your home, you should turn off your water supply. We can help you turn off your main water supply or help you locate the main water supply valve.
We can also install different automation products on your water pressure valves. These automation products are devices that will alert you when the water pressure goes high. High water pressure can be an indication that water is leaking from your pipes.
With these special devices installed, you can turn off your water supply using your smartphone. However, you need first to understand how these devices work. Our plumbers can help you understand more about these products.
More About Us
Blue Bear Plumbing, Heating & Air is a company that offers plumbing services to the people living in Boston and the surrounding areas. We have been in business since 2017, and we have served many people. Our plumbers are qualified, experienced, and insured. Our team always works to fulfill the needs of our customers. We can handle any plumbing replacement, installation, or maintenance project. We can also help you turn off your main water supply when going on vacation. In addition to plumbing services, we provide a full range of heating and cooling services. Contact us today for more information about how we can help you
Don't Wait to Schedule the Service You Need
Let Blue Bear Resolve All Your HVAC & Plumbing Issues!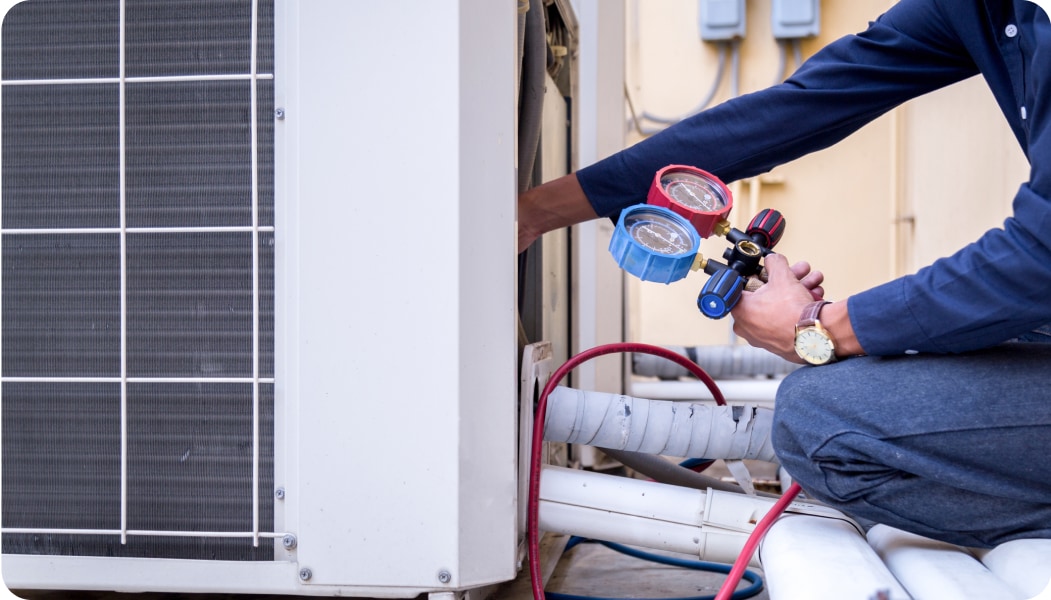 Sign Up for the Blue Care Maintenance Plan
Protect Your Home for Only $29 a Month!
Routine maintenance is vital for the longevity of your plumbing, heating, and air conditioning systems. Sign up for our Blue Care Maintenance Plan for annual service and exclusive membership benefits, including:
Priority scheduling
Waived service fee during normal business hours
10% discount on service calls
3% discount on new installations
Two-year parts and labor warranty on new equipment