6 Signs You Need Ductwork Repair or Replacement
Regardless of whether it's the freezing winter or the scorching summer, your ductwork plays a very important role in your home's comfort and air quality. Both your heating and air conditioning systems utilize these ducts to circulate air throughout your home. However, your ductwork is going to accumulate wear and tear over time, and as it gets older, it can become more susceptible to cracks, leaks, and other damage.
Damaged ductwork can result in air quality issues, mold growth, and decreased effectiveness in your home's heating and cooling. When a problem with your ducts does occur, bringing in a trained professional early on can prevent lots of discomfort and wasted money. For this reason, it's important that you know which red flags to look for when it comes to the ductwork in your home.
1. Inconsistent Heating and Cooling
When your home's ductwork is suffering from one or more significant leaks, it's going to result in a lot of air escaping that's supposed to be reaching your vents and heating or cooling your household. If you suddenly notice that your heating and cooling systems have become less reliable or effective, or if you notice that some rooms seem to be inexplicably warmer or cooler than others, it could indicate a problem with your ducts.
In some cases, the issues could just be caused by excessive dust or debris producing a clog within the ducts. However, there's a real possibility that they're being caused by some sort of damage or leak. At the very least, you'll want to bring in a ductwork professional for an inspection. If the ducts only need cleaning, these experts will be able to handle it, and they will also be able to determine if your ductwork needs to be repaired or replaced completely.
2. Excessive Dust in Your Air and Vents
Before the air in your home makes its way through the filter of your heating or cooling system, there's a good chance it will contain dust and other irritants. When your heating or cooling system and ductwork are healthy and working properly, the vast majority of those contaminants should be filtered out and gone by the time they reach your air vents and make their way back into the rooms of your house. However, if your ductwork is leaky or otherwise damaged, it's possible that more of that dust and debris can end up in the air that has already passed through a filter.
Just like that, your vents and the oxygen you're breathing will contain excessive amounts of dust and other irritants. If you've noticed that your home's vents or the air you're breathing seem dustier than normal, it may be wise to bring in a ductwork professional to take a look. The ducts may just need a thorough cleaning, but there could also be a leak that allows all that dust to contaminate your filtered air.
3. Unusual Noises
If you're hearing strange popping, booming, or banging noises when you turn on your heater or air conditioner, it's usually indicative of a problem with your ducts. What it typically means is that excessive air pressure is causing the metal in the ductwork to expand, which results in the unusual sounds that you're hearing. It might also indicate that the ducts have been poorly fitted or that they contain holes or blockages of some kind.
These noises aren't always symptoms of a particularly dire or serious issue, but if they continue persistently, you shouldn't wait around to have them inspected. As is the case with most HVAC-related problems, the longer you wait to act, the more serious the issue will become and the more money it will cost to repair.
4. Energy Bills Rising
When your ductwork is clogged, leaky, or otherwise damaged, it results in your heating and cooling appliances having to work harder to circulate air through your home. When leaks or cracks are present, the furnace or air conditioner needs to compensate for the air being lost by filtering and circulating more of it, which necessitates more energy being burned and more wear and tear being accumulated.
In the case of clogged ducts, it's a simple matter of the appliances needing to create more air pressure to push the air through, which has similar negative effects. Not only will this shorten the lifespans of your appliances and increase the chance of a breakdown, but it will also cause your monthly energy bills to rise. If you've noticed a spike in your heating and cooling costs that you're struggling to account for, it may indicate a problem with your ductwork.
5. Smell of Mold or Mildew
Fungi-like mold and mildew tend to grow in your home when excessive moisture is present, and in certain contexts, that excessive moisture can be caused by ductwork problems. If there's an issue with your ductwork's connections or insulation, it can cause uneven temperatures inside and outside of the ducts.
For example, if warm air mistakenly ends up encountering cold ductwork, it can result in condensation building up. When this continues to happen in your home regularly, mold and mildew will have the environment that they need to grow and flourish. These growths not only have a nasty smell, but they can also cause respiratory issues and other health problems. If you think you're smelling their presence within your house, don't wait around to call in a professional to take a look at your duct setup.
6. Pests in Your Home
When your ducts contain leaks or holes, it's possible that bugs and rodents will be able to infiltrate them. In some cases, these pests can even establish colonies, which can cause lots of problems in the long run. These pests can spread bacteria and microbes, cause unpleasant smells, and even make strange noises in the middle of the night. It's also possible that these bugs or rodents can cause clogs or blockages in your ducts or vents, which can force your heating and cooling systems to work harder.
It's a good idea to occasionally check your home and ductwork for any signs of a pest problem. If you discover that insects or small animals have set up camp in your house, it's worth bringing in a professional to determine if your ductwork is the source of the infestation.
Since first opening in 2017, Blue Bear Plumbing, Heating & Air has been providing top-notch HVAC and plumbing services to Boston, MA, and the surrounding area. In addition to our ductwork repair and replacement services, our skilled experts can also assist with heating, cooling, and plumbing issues. We are a customer-focused company, and we have undergone extensive service excellence training so that we can give you the best possible service. Our number one priority is delivering you the high-quality service you deserve, and we believe that our years of experience, equipment, and friendly team ensure that we will go above and beyond your expectations. Whether you need residential, commercial, or municipal services, we are fully equipped to handle all of your plumbing, heating, and air conditioning needs.
We would love to help you stay comfortable all year long. Give us a call at Blue Bear Plumbing, Heating & Air, and schedule an appointment with a friendly member of our team today.
Don't Wait to Schedule the Service You Need
Let Blue Bear Resolve All Your HVAC & Plumbing Issues!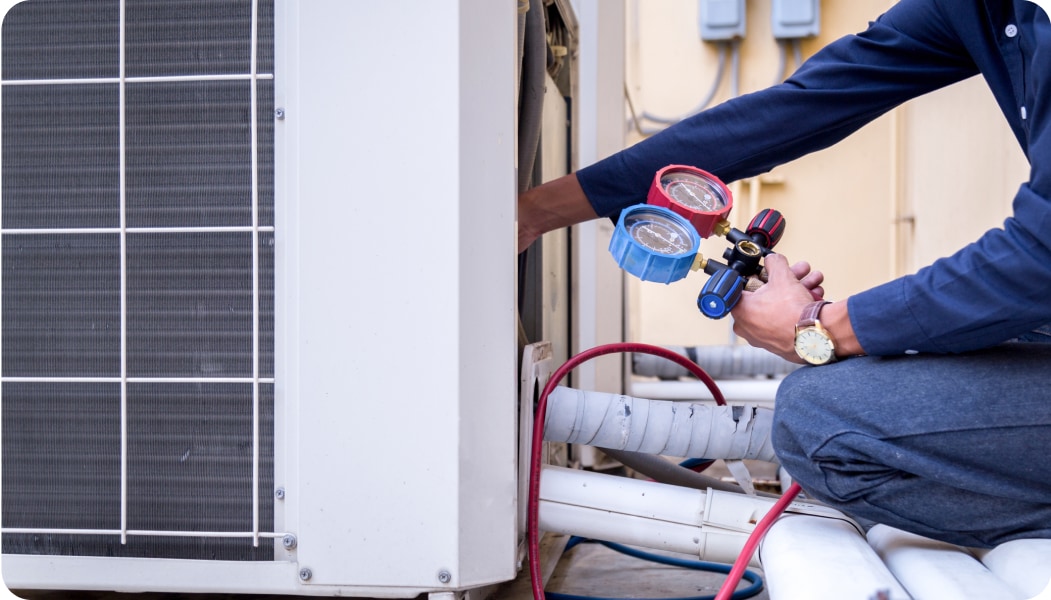 Sign Up for the Blue Care Maintenance Plan
Protect Your Home for Only $29 a Month!
Routine maintenance is vital for the longevity of your plumbing, heating, and air conditioning systems. Sign up for our Blue Care Maintenance Plan for annual service and exclusive membership benefits, including:
Priority scheduling
Waived service fee during normal business hours
10% discount on service calls
3% discount on new installations
Two-year parts and labor warranty on new equipment