10 Ways to Prevent Carbon Monoxide Leaks in Your Furnace
If you're like most people, you probably don't think about your furnace all that much. But it's essential to make sure that your furnace is in good working order, especially during the cold winter months. One thing you should check for is carbon monoxide leaks. Carbon monoxide is a poisonous gas that can be very dangerous if it leaks from your heater. Fortunately, you can do a few things to help prevent carbon monoxide leaks from your furnace.
1. Ensure Draft Inverter Is Properly Installed
One of the most common causes of a carbon monoxide leak is a poorly installed air intake. If you have an inverter, your air intake must be sealed appropriately. An improperly sealed or installed inverter could allow poisonous carbon monoxide to escape from the furnace and enter your home.
For example, if your inverter isn't appropriately sealed around the duct, or if it's installed in a place where the temperature is too hot, this could increase your chance of having a carbon monoxide leak. To prevent this from happening, make sure that an expert installer connects your inverter. Also, be sure to have it inspected every year to stay safe.
2. Be Alert to Carbon Monoxide Symptoms
Carbon monoxide poisoning can cause various symptoms, including chest pain, confusion, irregular heartbeat, and flu-like symptoms. If you suspect that there may be carbon monoxide in your home, call 911 immediately. It would be best to have your heating system inspected as soon as possible, too.
Remember that if you suspect carbon monoxide, you should never use a gas or an electric oven to heat your house. Doing so could cause the deadly gas to reach lethal levels.
3. Replace Filters Frequently
Older furnaces often have filters that need to be replaced every month, but newer units could have filters that only need to be replaced once or twice a year. However, if your filter looks dirty after a few days or weeks of being installed, it may not be doing its job. In this case, you should replace the filter as soon as possible to help prevent carbon monoxide leaks.
Be sure that your furnace is inspected when you turn on your air conditioning in the spring and in the fall before winter. If anything seems wrong with it, contact a professional immediately. If you live around Boston and need your filters replaced, reach out to Blue Bear Plumbing, Heating & Air for furnace filter replacement.
4. Install CO Alarms
Carbon monoxide alarms are connected to the furnace and measure carbon monoxide levels in your home. If CO levels get too high, an alarm will sound to let you know. These should be installed if you have young children or pets because they could suffer severe effects from carbon monoxide poisoning.
If you've already had a carbon monoxide leak, don't wait to address it. Call in professionals to inspect your furnace immediately. If you suspect carbon monoxide, call 911 directly, and ensure all the windows are open. Don't use any gas appliances or lanterns while indoors. Contact a professional to check your heater once you're out of the house.
5. Check Your Furnace for Carbon Monoxide Leaks
If you haven't had a carbon monoxide leak and your furnace is more than five years old, it's probably a good idea to check for leaks. While doing this, make sure to test the CO levels of each room in your residence. If any room has an elevated level, you should call a professional to inspect your furnace.
To check for a carbon monoxide leak, you'll need to use a CO meter. You can usually find these at your local hardware store. If you don't want to buy one, most professionals will bring their own when they come to inspect your system.
6. Get an Annual Tune-Up
If you want to keep your furnace working at its peak performance, you must have it tuned-up yearly. The air filter will be replaced during this tune-up, and the motor will be lubricated. A professional may also check for carbon monoxide leaks during this time.
Suppose you aren't sure when your last furnace tune-up took place; schedule one as soon as possible. A tune-up will allow you to catch any problems before they become severe and your heater stops working completely.
7. Keep Vents Clear of Debris
Keeping the vents clear of debris will help ensure that your furnace works at its best. If you have too many vents clogged, it can cause carbon monoxide to get trapped in the house.
If this happens, open windows and doors on opposite sides of the property to allow fresh air to get inside. Also, be sure to replace any dirty filters. This will prevent the vents from getting plugged again.
8. Inspect and Clean Your Chimney Annually
A fireplace in your home is a great way to keep warm during the winter months. If you want to avoid carbon monoxide leaks, you must inspect and clean your chimney before using it.
While doing this, make sure to check for blockages or cracks where the smoke may be escaping. If there are any holes, they should be patched up immediately. If you don't feel comfortable making the repairs yourself, call a professional to do it for you. You can also choose to hire a professional cleaner to inspect and clean your chimney instead of doing it yourself.
9. Ensure Gas Is Turned Off Before Starting Work on the Furnace or Chimney
Before you do any work on your furnace, make sure to turn off the gas first. If this isn't done, there's a chance of an explosion and carbon monoxide leaks.
To be sure there's no risk of leaking, ask someone who knows what they're doing, or call a professional yourself. It may seem daunting, but it's the best way to make sure your furnace doesn't explode.
10. Install a Metal Cover on the Top of the Chimney Pipe
One way to prevent carbon monoxide from leaking from your chimney is to install a metal cover on the top of the pipe. This will go over the hole where you can push up or pull down.
While adding this cover may seem like an unnecessary step, it only takes a few minutes and could save your life or that of someone else in your family. When you think about the cost, it's well worth the investment.
Follow all of these tips to help ensure your family stays safe during the cold months. If you find any leaks, it's essential not to ignore them. Leaks can cause carbon monoxide poisoning and destroy your furnace. Blue Bear Plumbing, Heating & Air is an HVAC and plumbing company based in Boston that can help you with carbon monoxide leaks and any other plumbing, cooling, or heating problems you may have. Reach out to Blue Bear Plumbing, Heating & Air for a free estimate today.
Don't Wait to Schedule the Service You Need
Let Blue Bear Resolve All Your HVAC & Plumbing Issues!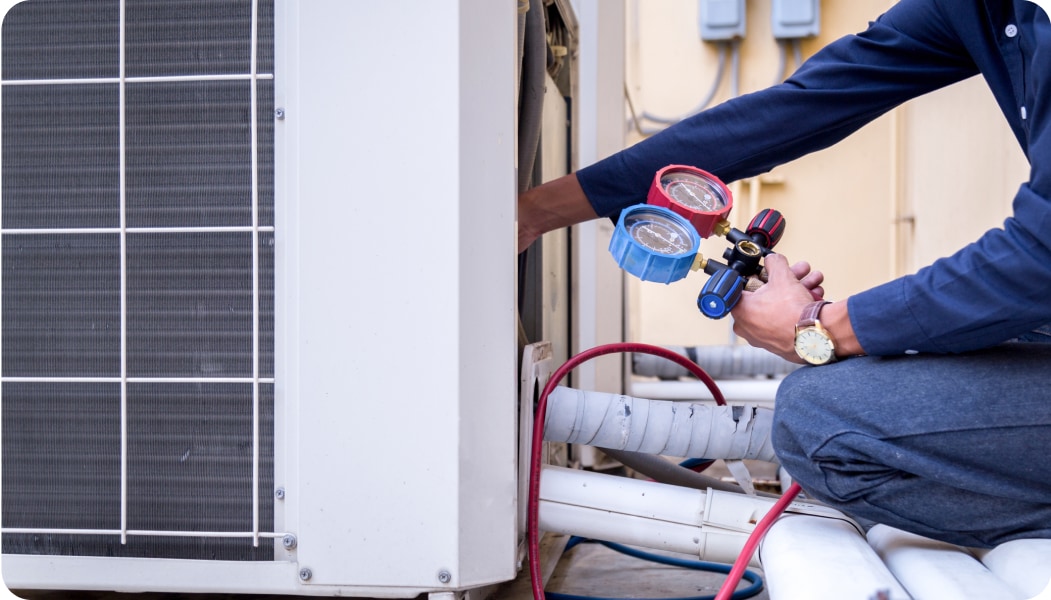 Sign Up for the Blue Care Maintenance Plan
Protect Your Home for Only $29 a Month!
Routine maintenance is vital for the longevity of your plumbing, heating, and air conditioning systems. Sign up for our Blue Care Maintenance Plan for annual service and exclusive membership benefits, including:
Priority scheduling
Waived service fee during normal business hours
10% discount on service calls
3% discount on new installations
Two-year parts and labor warranty on new equipment